IsaCalcium
IsaCalcium is an easily absorbed, delicious, powdered drink that provides your body with the calcium it needs, as well as essential vitamin D and magnesium.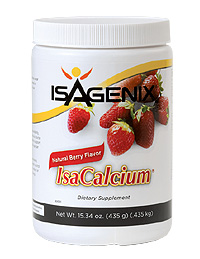 IsaCalcium contains over 1000 milligrams of calcium per scoop — that is more than three times the amount of calcium found in an 8-ounceglass of milk!
Calcium is an essential nutrient and necessary to help build and maintain healthy teeth and bones. It also helps keep the heart, blood,nerves and muscles working correctly. A calcium deficiency in both men and women can lead to bone frailty, as well as osteoporosis. IsaCalcium is a convenient way for people to maintain healthy levels of calcium in the body.
IsaCalcium contains vitamin D and magnesium, both of which are necessary for your body in order to form and maintain strong, healthy bones. IsaCalcium also contains Ionic Alfalfa™, our proprietary blend of minerals for optimum health.
IsaCalcium comes in an easily absorbed, delicious, powdered mineral drink that can be added to water, juice or your IsaLean® Shake. IsaCalcium is also an excellent alternative for those who are lactose intolerant.